Do you like to sing? Would you like to build a unique concert and a community with others? Then sign up for this queer friendly project and perform together with the famous Flemish band K's Choice in the Stadsschouwburg Utrecht on Saturday 19 November.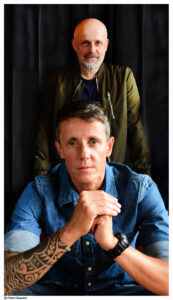 K's Choice broke through in the 90s with their raw, melancholy music, including hits like Not an Addict and Believe. In 2019, the lead singer of the band announced to go through life as a man, Sam Bettens. Partly due to his accessible vlogs, he has become an important figure for the trans community. The band is still touring internationally, attracting packed venues and is now coming to Utrecht to share the stage with hundred music lovers.
In October and November, a pop-up choir of 100 people will take shape. In six workshop days, you will work towards a concert with K's Choice that will be shown during the fifth edition of What You See Festival. Everyone is welcome! We explicitly invite trans, non-binary and queer people and the rest of the LGBTQIA+ community to participate. This choir believes in the power of differences and aims to bring together a diverse group of people who love to sing. Singing experience is not required! A mini-documentary will be made of the project.
THE WORKSHOPS
For six days, you will work with a team of professional teachers from the Saturday Sunday organisation on musicality, singing technique and performance, based on the music of K's Choice. The Estill Voice Training teaches you how to produce your own sound and timbre. We work on courage and confidence, physical awareness, posture and focus, and singing together. Initially, you will be divided into voice groups, and the further the rehearsals progress, the more we will work within the large choir. The last day is dedicated to the concert in the Stadsschouwburg, where we rehearse with K's Choice. The rehearsal and performing spaces are accessible for people using wheelchairs.
WHAT DO WE EXPECT FROM YOU? 
You like to sing on stage!
It is not obligatory – but it is useful – to be able to read music.
You are willing to learn and can handle feedback.
You participate in all rehearsals.
You don't mind being photographed for the mini-documentary and the photo-documentary.
You have basic knowledge of the Dutch language (doesn't have to be fluent!)
You're 16+
DATES
Please note: To participate in the performance we ask you to be present on all dates.
Saturday, October 8 2022, 13:30-17:00, introduction
Saturday, October 15 2022, 10:00-17:00, rehearsal
Sunday, October 23 2022, 10:00-17:00, rehearsal
Sunday, October 30 2022, 10:00-17:00, rehearsal
Sunday, November 6 2022, 10:00-17:00, rehearsal
Sunday, November 13 2022, 10:00-17:00, rehearsal
Saturday, November 19 2022, 13:00-22:30, performance
The introduction and rehearsals take place in DUMS (De Utrechtse Muziekschool), Domplein 4, Utrecht. Please bring your own lunch. The concert takes place in the Stadsschouwburg Utrecht (Lucasbolwerk 24, Utrecht) and dinner will be provided on this day. The locations are accessible for people using wheelchairs.
Do you have any questions? Would you like to participate but are you facing financial complications? Do you need anything else from us to participate? Mail us at info@whatyouseefestival.nl before buying a ticket.
---